Giving is worship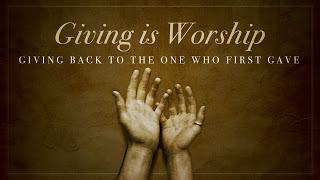 Give to those in need; don't hold back if it is in your power to do good to others - I was raised with such values. I never had a problem giving. I didn't mind giving at the cost of my own needs and wants. There is this feeling of satisfaction that overtakes the mind when you know you've done good. I always thought God would be smiling down at me for my good heart.
On the other hand, when my giving was inhibited, my heart was hurt. It bothered me deeply when I couldn't contribute to someone's needs. When I had questions about this in my heart, this was the reply, 'Do you give because it makes you happy or do you give because I give you?' The kind of giving that God expects will happen only when we have been recipients of unconditional love. He allows us to come to Him in all our needs; we could draw strength, power, grace, mercy and everything that comes with His love. And God uses people to demonstrate this love in action. If a person is touched by this kind of love even once in his/her life, it becomes impossible to remain unaffected by it.
In the recent past, I experienced kindness and love in a very supernatural way. I cannot put to words the thoughts that went through my mind. The feeling of thankfulness to unexpected love-in-action is unexplainable. What could I say in reply? Thank you? I could in time, return the favour. Would that suffice? Consequently something changed in me at the core of my personal being. I realised that, to give and give back goes deeper than what it seems at the surface. It isn't mere exchange of favours. A person is affected in the spirit by 'giving with love' and 'receiving with thanks'.
In fact it was in receiving that I learnt life's most valuable lesson. Repaying favours does equal the scales and set right the balance in relationships. But I've come to know and understand that it cannot stop there. The best way to say thank you and give back would be to pass it on to the next one in need. God gives so we could give, and give with gratitude. I believe it is true for love, mercy, patience and kindness
Now wait a minute, is this called the 'circle of life'?
Freely you received, freely give - Jesus